Welcome to Grand Palladium Bavaro Suites
Grand Palladium Bávaro Suites Resort & Spa
Located in our Punta Cana Resorts complex, you'll find the Grand Palladium Bávaro Suites Resort & Spa, named after one of the most famous beaches on the east coast of Quisqueya. The island's beautiful tropical landscape provides the perfect harmony for the soundtrack of this paradisiacal haven: the murmur of waves crashing on fine white sands that cover a stunning 1 km long beach. Surrounded by some impressive palm trees and sumptuous vegetation, this Resort shares a great selection of restaurants, bars and entertainment and sports options with theGrand Palladium Palace Resort Spa & Casino and the Grand Palladium Punta Cana Resort & Spa.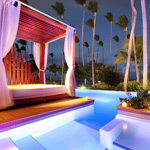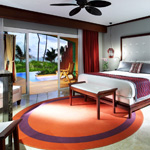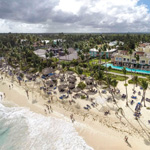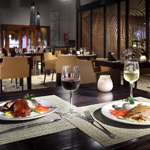 The facilities and services you'll find at any of our Palladium Hotels & Resorts will make your stay an unforgettable experience: 24h reception, fax and telephone service*, free WiFi internet access in lobby area, and DSL with charge, satellite TV, luggage room, wake-up service, currency exchange, laundry service*, outdoor parking, access ramp to common areas and pool, beverage machine, Ice machine, amongst others. Weekly catholic mass on Saturdays at 7:00pm. There is also a supermarket (with a selection of medicine), gift shop/ souvenirs, photography store, beauty salon and Spa*, hairdresser, medical service *. Very close to the resorts, there's hospital* (15km), car rental offices and a golf course* (nearby). *Additional charge.
The Grand Palladium Bávaro Suites Resort & Spa has recently been renovated and its facilities have been improved, with the aim of providing guests a better service and the wellbeing and comfort that they deserve.
The existing rooms were fully refurbished and 178 new ones were created. The lobby was also renovated, with a new terrace, as well as the amphitheatre, the La Catedral restaurant's kitchen and the Asian and Spanish restaurants; and a new Mexican restaurant was inaugurated. The new facilities have high quality materials as well as an exclusive design that provides a distinguished and comfortable setting so that guests can enjoy their stay.
674 rooms: 124 junior suites, 309 master junior suites, 63 romance suites, 8 swim up junior suites, 8 ocean view loft suites, 108 deluxe junior suites, 48 luxury junior suites and 6 luxury master suites.
8 à-la-carte restaurants with a large variety of cuisines.
5 Buffet-Style Restaurants.
15 bars throughout the resort.
4 Pools
A top-rate Zentropía Palladium Spa & Wellness Center
Casino*
Convention Centre: 1 business centre with 7 modular rooms arranged into two groups, and several lounge and coffee break areas.
The Baby CLub "El Castillo del Pirata" (aged 1-3), the Mini Club for children (aged 4-12) and the Junior Club "Black & White" for adolescents (aged 13-21).
All Inclusive
At the Palladium Hotels & Resorts, we believe in quality and variety. Thanks to our All-Inclusive Program, the Grand Palladium Bávaro Resort & Spa offers a large selection of exquisite cuisines as well as national and international premium drinks. Enjoy a relaxing day in our Spa & Wellness Center, or have fun with any of our activities and shows, with no extra charges. No need for reservations. Suject to availability. Pager/beeper service available for restaurants waiting list.
Guest can use any of the facilities located at our three resorts: Grand Palladium Punta Cana Resort & Spa, Grand Palladium Bávaro Resort & Spa and Grand Palladium Palace Resort Spa & Casino, except those located at The Royal Suites Turquesa by Palladium.
Services
Whether you prefer to have fun under the warm Caribbean sun or enjoy the smoothing sea breeze at nighttime, the Grand Palladium Resorts offer a fun-filled agenda of sports and entertainment activities for grown-ups and kids, every day. Practice your favorite beach sports with your family during the day, and don't miss the shows, live music and games we feature in the theater. Every day of the week we offer a special plan to meet everyone's preferences: Spa, casino and the Sunset Boulevard Discotheque for adults, and video games, arts and crafts, and a mini-disco for children. Swimming pools, sports, aerobics, Spanish classes, mini golf...We guarantee that our guests will always find something fun to do during their stay at the Grand Palladium Resorts.
Entertainment
Activities and games at the main pools and the beach.
Children's entertainment throughout the day and shows and/or mini-disco at night.
Shows and games every night at the theatre.
Sunset Boulevard Discotheque, air conditioned. Open from 11:15 pm – 2:00 am.
Casino de 10:00 am – 3:00 am.
Live music every night.
Facilities & Activities
Gymnasium
Golf*
Aqua gym
Water polo
Mini Golf
Table tennis
Archery
Darts
Billiards
Soccer
Beach volleyball net
4 badminton courts
6 hard-floor tennis courts (floodlights*)
4 paddle courts (floodlights*)
6 petanque courts
Information and timetable subject to change.
*Additional charges.
Water Sports
Catamaran
Windsurfing
Kayaks
Banana Boats*
High Seas Fishing (4hrs basic tour excursion)*
Diving courses with international certification (PADI)*
Glass bottom boat*
Diving and snorkeling excursions to Isla Catalina*
Catamaran and windsurf courses*
Information and timetable subject to change.
*Additional charges.
Weddings & Honeymoon
Exotic and romantic weddings, vow renewal ceremonies, golden or silver wedding celebrations…Make the wedding of your dreams a reality, or enjoy the most passionate honeymoon at our majestic beachfront resort. Celebrate that special moment in our romantic gazebo overlooking the sea, surrounded by palm trees and lush tropical gardens specially decorated for the occasion. The complex has direct access to a 1.000m long beach of fine white sand and offers a wide variety of services and facilities. And in case of bad weather, we also have an interior hall for 60 to 80 people.
Honeymoon couples can also enjoy other amenities such as a superior room upgrade (when available), a fruit basket, a bottle of rum and a exclusive a la carte dinner.
Pools
4 Pools
Free umbrella, sunbed, shower and towel service.
Built-in jacuzzi in all pools.
Pools are open from 7:00 am – 7:00 pm.
Boca Chica Pool
Located in Grand Palladium Bávaro
Lake style pool
Adapted for children
Lazy pool area with semi-sunken sunbeds
Maximum 2,40m deep
Open: 7:00am to 7:00pm
Barahona Pool
Swim-up bar
Built-in jacuzzi
Located in Grand Palladium Palace
Adapted for children
Maximum 2,40m deep
Open from 7:00am to 7:00pm
Samana Pool
Located in Grand Palladium Punta Cana
Adapted for children
Lake style pool
Swim-up bar
Maximum 2,4m deep
Open from 7:00am to 7:00pm
Saona Pool
Located in Grand Palladium Punta Cana
Lake style pool
Adapted for children
Swim-up bar
Maximum 2,40m deep
Open from 7:00am to 7:00 pm
Banquets
The Grand Palladium Resorts in Punta Cana have recently inaugurated their new Convention Center. As the market leader in its category, the Center has been designed with 7 multi-purpose halls with a total area of 605 square meters and maximum theater capacity of 500 people. It features modern facilities, advanced multimedia technology and a team of professional experts that can help you organize any type of event. The breathtaking tropical gardens around the Convention Center are the perfect setting to celebrate a wide array of events, such as cocktails, receptions, etc. Thanks to its exotic surroundings and great selection of sports and entertainment activities, the Center also offers a differentiating way of organizing corporate incentive trips and team building activities that help promote communication and good working relationships. By staying away from the traditional meeting rooms, the Center can offer your company an excellent opportunity to do business and work out deals while enjoying the beautiful landscape of Punta Cana.
Children
The Grand Palladium Resort Complex in Punta Cana has new facilities bringing together the Mini Club (children from 4 to 12 years) and the Baby Club (children from 1 to 3 years) in one place so that families, and particularly children, can enjoy a wide range of open-air activities during the day and the night. The new centre is already considered the largest and most complete in the whole of the Caribbean. And for teenagers, the "Black & White" Junior Club offers an exclusive area for keeping them occupied.
Mini Club
Open from 09.00am – 11.00pm
Located next to reception in the Grand Palladium Punta Cana Resort & Spa, the new Castillo del Pirata reflects a colonial fort type theme that has become a delight for little ones. It has an outdoor area of 950 m2 with a lawn-covered patio surrounded by beautiful gardens. Children can enjoy their own pool with mini water park, as well as the lounges with electronic games, a theatre and a small dining room. And for them to take a rest between games, it also has a dormitory.
Black & White Junior's Club
Open from 10.00am – 11.00pm
How do you keep young people between 13 and 21 years old entertained while their parents enjoy a well-deserved holiday? With a Club designed exclusively to suit their tastes. The "Black & White" Junior Club offers a full activity programme to suit every age, as well as a special lounge with video games and another with table games: pool, table tennis and table football. Also, there is an area designed for their main leisure activity: computers.
Spa
Zentropia Palladium Spa & Wellness offers a unique opportunity to unwind and relax with a complete wellness experience. Located at the Grand Palladium Palace, our Center is one of the most complete spas in the country. In addition to offering exclusive and personalized services, it also features a gymnasium with modern facilities, jacuzzi, sauna and vapor baths that will fly you to a haven of tranquility and pleasure. Pamper yourself with a luxurious massage or choose amongst a great variety of beauty treatments (additional costs and previous reservation required).
** Starting on December 23rd, 2013, access to the wet areas (hot tubs, pool, sauna and steam baths) in our Zentropia Palladium Spa & Wellness centers will have a $10USD fee per guest, per day for Grand Palladium´s guests. Our Royal Suites guests and Palladium Travel Club members have their entrance included in their stay. Also there will be offers and special attentions towards our guests. Also, guests who purchase any of our spa treatments at Zentropia Palladium Spa & Wellness will be given free access to our wet areas that day.